Open House - The Real Estate & Mortgage Show: June 6th, 2022
Date Posted: June 6, 2022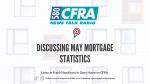 New housing market statistics show that volume of sales is down 21% from May last year and sold 1800 residential properties which is less than May of last year. We are currently below the 5-year average for volume of sales.
Despite the inventory gap from the Ottawa storm – we are over the 5-year average by about 5%. We are seeing steps towards a balanced market once again.
Increased rates have become the norm in the market over the past two years – some are finding that rents on properties such as town homes are becoming cheaper than mortgage payments. For instance, a mortgage of $700,000 with 5% down would breakdown to an estimated $3500 monthly payment including tax and any other fees. Whereas the rent on that same property would typically be in the $2000 range. Some people are wondering if it is worth it to buy a house now.
Looking at high interest rates and the troubles that Canadians are having in affording homes; we can only estimate that it will take a little more time until we see interest rates fall.
To hear the full podcast; click here
Contact your Mortgage Broker today for trusted advice