Open House - The Real Estate & Mortgage Show: June 27th, 2022
Date Posted: June 27, 2022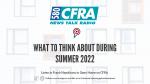 The start of summer was on June 21st which brings many factors such as the summer heat. Now is a great time to check in on your air conditioning unit and get it serviced. Especially if you have purchased a house in the late spring, you might want to make sure it is working properly.
With concerns of inflation still in news rotation – people continue to wonder if it is a suitable time to sell and are worried that they are not selling their house for as much as they think they should. It is important to note that two years ago houses were selling for $200,000 less on average than what they are today. There was a spike in March 2022 which makes it seem like you are selling for less right now, however, this is still no comparison to what you would have gotten if you sold even just one year ago.
Another big concern people are facing are the increase in their mortgage payments. A big consideration is to endure paying the rates right now or changing the amortization rate to a longer period to lower your payments. This all comes down to your personal situation. Ideally most people want to pay off their mortgage as quickly as possible, however, most people want to do so while also having a stress-free and enjoyable life. This is up to you if you think lowering your payments by a couple hundred dollars will relieve stress enough to make it worth it.
Over the pandemic we have seen a lot of people move to the outskirts of towns as they were working from home for cheaper houses. Now that people are slowly returning to the office and gas prices are much higher than before – we are predicting that people may make the decision to move back into the city to compensate for those expensive commutes.
To hear the full podcast; click here
Contact your Mortgage Broker today for trusted advice