Open House - The Real Estate & Mortgage Show: June 20th, 2022
Date Posted: June 20, 2022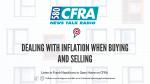 As interest rates continue to rise and we look at another .75% rate increase in July from the Bank of Canada, sales on homes are slowing down drastically. While many sold their home over asking price in the last two years – we are currently looking at a different kind of market.
Homes are being seen to stay a lot longer on the market with less offers, and in most cases are selling under asking price. This goes to say that if you did sell your home or are still planning to sell your home – you are still in a good position. Houses are still selling at higher prices than they were two years ago so you can still get good value for selling your home.
The real estate market is a long-term investment, and if you feel like you're not in a great position for your purchase or sell – just wait a year and you will be glad you made that decision.
To hear the full podcast; click here
Contact your Mortgage Broker today for trusted advice