Open House - The Real Estate & Mortgage Show: June 11th, 2022
Date Posted: June 14, 2022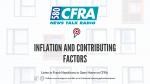 Inflation is the topic of 2022 as Canadian's worry they will not be able to afford their houses. Frank and Paul discuss the problems we are facing and the leading contributors to the constant increase in in the cost of living.
Prime rate has increased .5% two times in a row which has not happened in the past 30 years, and now, we are hearing of a possible .75% increase in July. The cost of living has increased exceptionally when taking in the cost of food, oil, and gas.
It is nearly impossible to accurately predict what will happen a year or two from now as things can change at any time. What we can expect is the housing market to correct itself. We've seen a rampant increase in housing costs over the past two years and Canadians can't afford it if they stayed on this path. This means housing prices will need to settle down for buyers or else they will not sell. As more houses stay on the market longer, the total number of listings will increase, and we will slowly return to a normal market.
To hear the full podcast; click here
Contact your Mortgage Broker today for trusted advice