CTV Morning Live: Mortgage Minute- December 18, 2018
Date Posted: December 18, 2018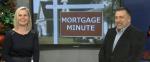 The past year in the mortgage industry has brought many changes. What can we expect in 2019? The stress tests implemented in January impacted the purchasing power of some Canadian, namely the first-time home buyers.
The three increases to the prime lending rates did impact some Canadians although they still remained lower than the fixed mortgage rates.
In terms of the housing market, there are some cities that are more expensive than the rest. The rest of the country is in fairly good shape. Ottawa and Montreal are expected to be great real estate markets in 2019.
With an election next year, markets tend to slow a little in anticipation. Some economists are predicting a potentially recession in the next few years- potentially as early as 2019. In terms of rates, some experts are predicting one early increase to prime rates.
To watch the full segment, click here.
For more information, contact your Mortgage Broker for the best advice.